Products You May Like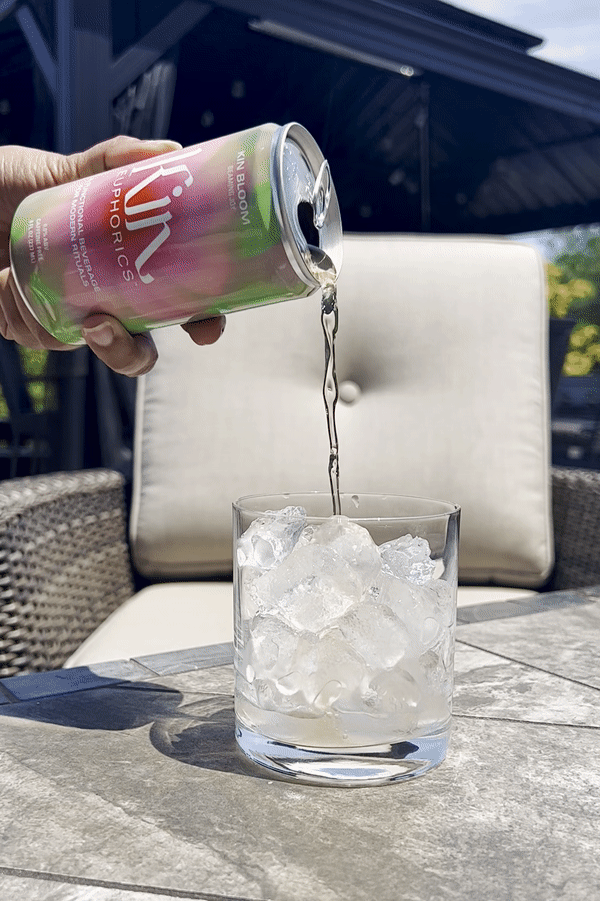 Although summertime is the season for rosé all day, my vino-induced headaches and migraines say otherwise. I deal with migraines and tension headaches, and I reluctantly came to the realization that most alcohols are a trigger for me, especially wine. It's hard to part ways with something you love but isn't really benefitting you, especially in a social setting. However, the Kin Euphorics Bloom ($30 for pack of eight), a rosé-inspired adaptogenic drink, makes it a little bit easier.
POPSUGAR editors have raved about Kin Euphorics' other functional nonalcoholic beverages like the calming Lightwave, perfect for a nightcap, or the Spritz, which is an Aperol spritz alternative. The brand has functional, adaptogenic beverages for every mood or vibe, and you can find your best fit here. When Kin Euphorics came out with the sparkling-rosé-inspired drink, I was eager to try it out. Plus, the brand is cofounded by Bella Hadid, and there's truly nothing more I enjoy than putting celeb-owned brands to the test.
What Is Kin Bloom?
Kin Bloom is a sweet, sparkling drink with strawberry, white grape, spiced barrel oak, and rosemary citrus flavors. It's infused with active adaptogens and nootropics that will help balance your mind and set the vibe of the occasion. Bloom contains schisandra, which is supposed to conjure clarity and vision; damiana, which is supposed to ignite the heart fire; and L-theanine, which helps ease you back to center and feel balanced. It doesn't contain caffeine, CBD, THC, or melatonin, so you can drink it any time of day. However, the brand says not to have more than four cans in under 24 hours.
Kin Euphorics claims Bloom is supposed to help release stress and support a calmer state of mind while awakening passion and opening your heart to allow you to connect with yourself and friends. The beverage was created to spark joy and make you feel brighter and uplifted. It's supposed to set the tone for you to feel relaxed, allowing you to connect with others in an intimate setting rather than a big social gathering.
What Does Kin Bloom Taste Like?
I recruited a few of my friends to test this out with me to get their thoughts as well. We got a whiff of citrus and florals that were sweet yet spiced. Bloom has an overall sweet botanical taste. We couldn't really pinpoint exactly what the spiced and citrus notes were — some of us thought we tasted hints of ginger, and others tasted grapefruit. Either way, we all agreed that the spiced and citrus notes give the beverage an alluring kick and depth that keeps you wanting more. It has slight notes of fresh strawberry; it doesn't taste like artificial strawberry flavoring but rather the actual fruit. Bloom is not overly sugary and sweet — it's just the right amount for a natural, uplifting taste.
Kin Bloom has an elevated sparkling-water vibe packed with flavor and doesn't taste watered down. The fizz level is light and revitalizing, like a balanced, soft sparkle. It's not overwhelming, where it feels heavy and makes you bloated or gassy. To truly make it a refreshing summer drink, especially in the heat, I prefer to drink it chilled or over ice.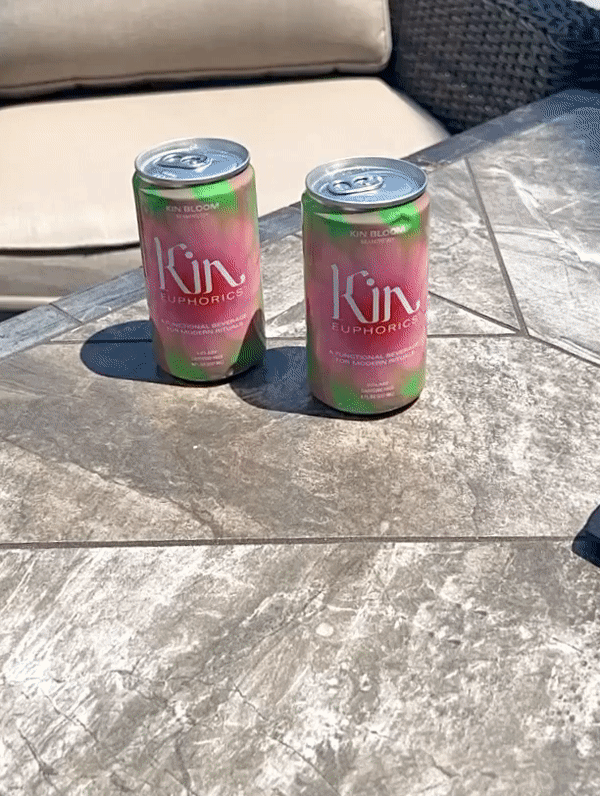 What Does Drinking Kin Bloom Feel Like?
Although rosé comes in a variety of flavors itself, we all agreed that this has that rosé vibe and is a pretty decent replacement. It's not an exact match in terms of taste, but the flavor is delicious on its own merit. The main difference we found between rosé and Kin Bloom was that rosé actually felt heavier and Bloom had a lighter, energizing feel. In terms of the adaptogenic and functional claims, I didn't notice a drastic change in my own mood, but I felt good and uplifted while drinking it. As my friends and I were sipping on Bloom, we caught up on life and enjoyed each other's company. We felt relaxed and engaged in each other's stories. I'm not sure if that's the beverage's doing or just what friendship is — either way, it was a lovely experience.
Kin Bloom is something I would drink on a daily basis during the summertime, whether I'm catching up with a friend or just unwinding and enjoying the warmer weather. It's a refreshing and delicious replacement for rosés, boozy seltzers, or sodas. However, it doesn't have to serve as a replacement, either. You can enjoy the refreshing and bright botanical beverage any time you want.
Rating

Image Source: POPSUGAR Photography / Anvita Reddy