Products You May Like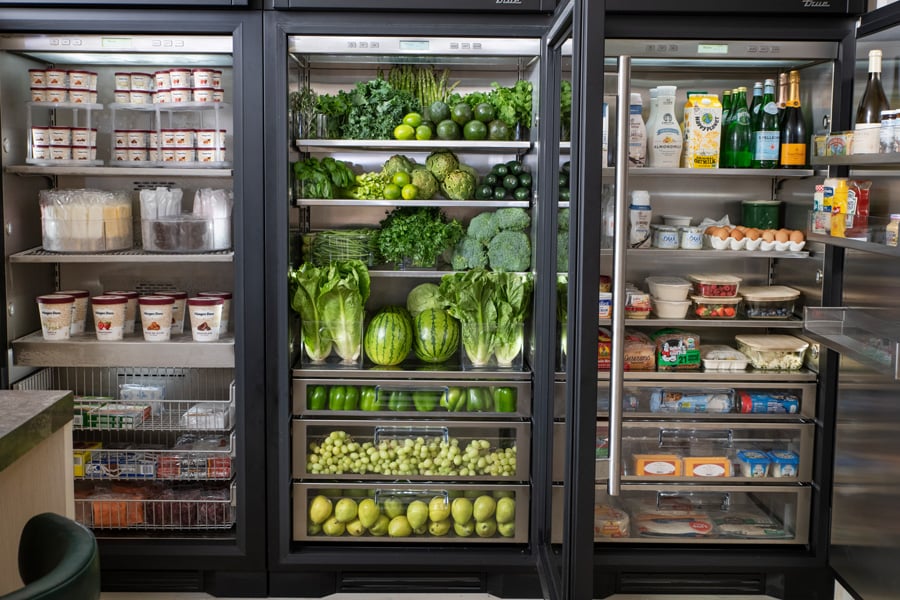 Image Source: Poosh
I never knew it could be so voyeuristically satisfying to look inside the refrigerators of the rich and famous. The "Cribs" era of the early- to mid-2000s should have better prepared me, but all I remember from those famous refrigerators was a lot of energy drinks, which wasn't especially relevant to a high schooler who didn't drink caffeine or carbonated beverages. Now, however, that high schooler is an adult with one-and-a-half narrow refrigerator shelves to her name and a monthly grocery bill that far exceeds her budget, and all of a sudden, color-coded and perfectly organized refrigerators are a source of fascination — especially when they're housed in famous kitchens.
Enter Kris Jenner and her fleet of sleek, matte-black refrigerators and freezers, which were shared today on Kourtney Kardashian's lifestyle brand Poosh. The Jenner-Kardashian matriarch flung open the doors of her fridges(!), giving the masses a peek at what a millionaire momager keeps on hand and — crucially — how she organizes it. I zoomed in on every detail, and I need to talk about it.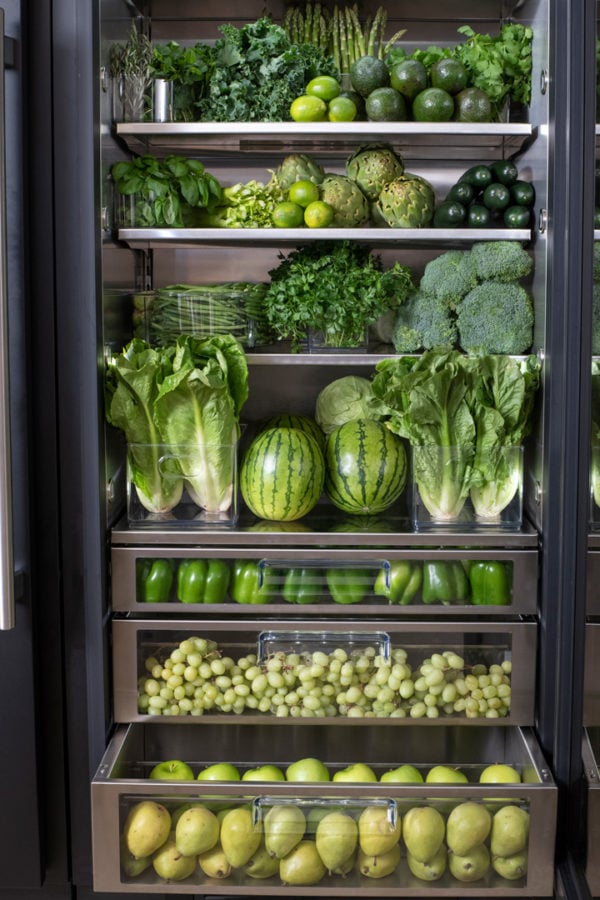 Image Source: Poosh
The centerpiece of Jenner's set-up is the all-green produce fridge, fronted by a see-through glass panel. The glass is important, because it allows you to see straight through to the seemingly endless rows of kale, broccoli, lettuce, celery, watermelons, Brussels sprouts, avocados, and assorted herbs. If my refrigerator was this aesthetically pleasing, I'd also want to stare inside every time I walked by without having to open the door. Can we also talk about the entire drawer dedicated to green grapes? It's like being in a posh boutique grocery store. I could make an incredible green smoothie out of the contents of Jenner's produce fridge.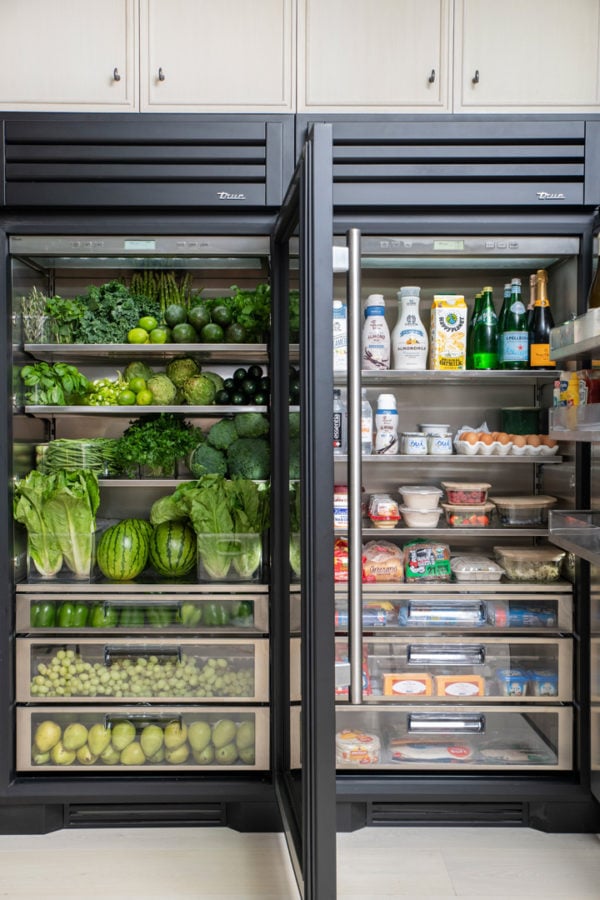 Image Source: Poosh
Fridge number two is where we start to find some processed food, including the 21 Whole Grains and Seeds variety of Dave's Killer Bread (also my personal favorite — great choice, Kris), almond milk, S.Pellegrino, yogurt, condiments, and what appears to be quesadillas and blocks of cheese. The fridge also has eggs, blueberries, and strawberries, which I assume didn't make the cut for the highly exclusive produce fridge due to not being green. (FYI, according to Poosh, Jenner "always has fresh berries in her fridge to snack on throughout the day.") Once again, we have impeccable organization in refrigerator two: containers of almond milk stacked at least three deep, uniformly colored eggs in neat rows. And apparently, this organization wasn't just a play for the cameras — Jenner (and her assistants, we assume) always keeps these fridges and freezers organized and stocked.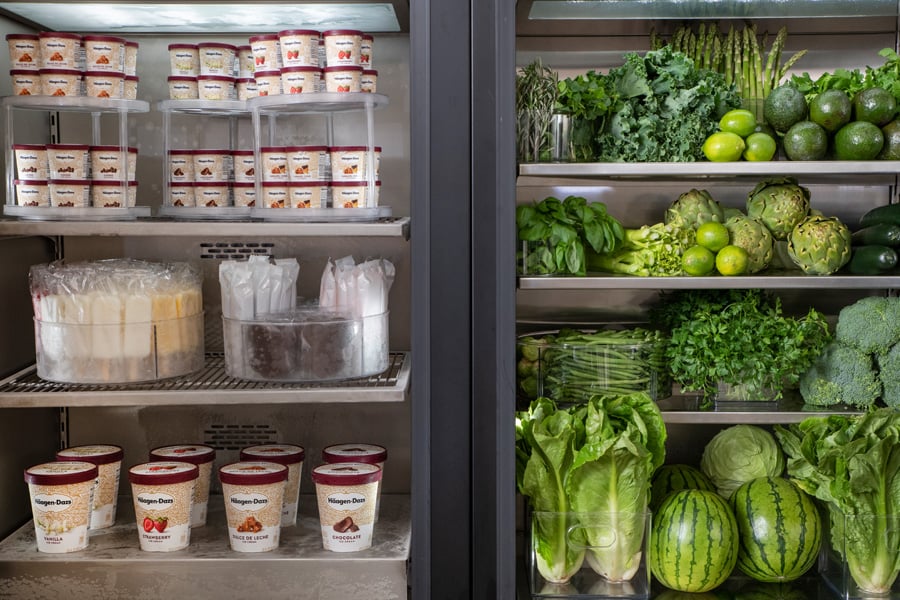 Image Source: Poosh
Last, but not least, is Jenner's freezer, which is where we find the really good stuff — by which I mean dessert. Jenner's freezer is neatly filled with dozens of Häagen-Dazs cartons, popsicles, and Klondike ice-cream sandwiches (along with some healthier stuff, like frozen salmon filets). I'm now desperate to know Jenner's favorite ice-cream flavor — my gut says strawberry.
Fridge jealousy aside, it's probably best not to view Jenner's fridge and freezer situation as something aspirational. Speaking for myself, I am not currently (nor do I ever expect to be) in a place in my life where I have two fridges and a standalone freezer, let alone the time, resources, assistance, and organizational verve to make them look this neat and tidy. (Cut to me shoving a bunch of celery into my one overflowing produce drawer.) If Jenner wants to spend her money on a drawer of perfectly aligned bell peppers and an in-freezer Lazy Susan stocked with popsicles, that's her right. She's in a place where, at any given moment, she can drop everything and feed a house party's worth of guests — as long as those guests are down for eating mostly green produce, almond milk, and Häagen-Dazs. I, for one, respect that. And that respect has nothing to do with my hopes of one day being invited to such a house party. Not at all! (Kris, if you're reading this, I'm free this weekend.)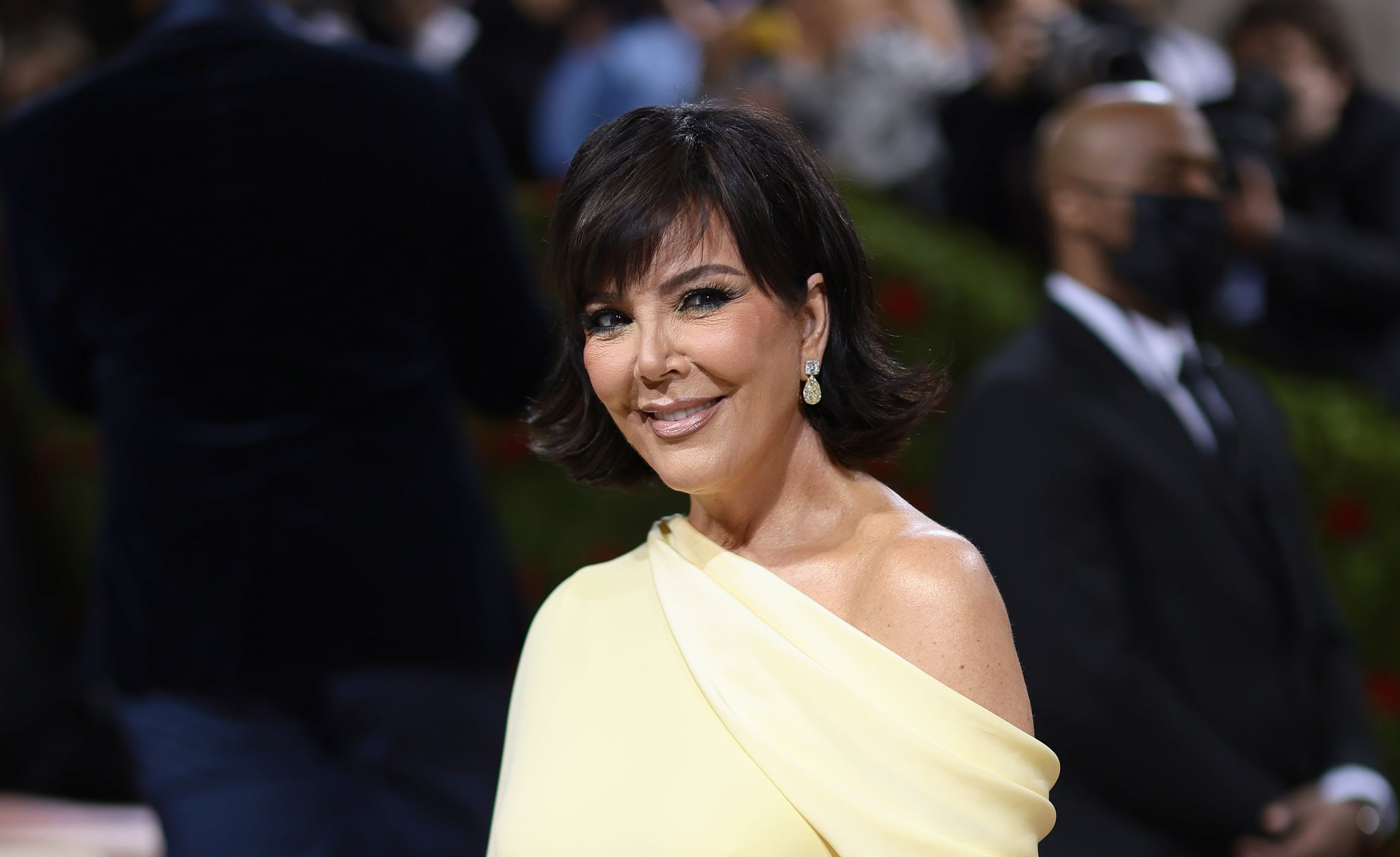 Image Source: Getty / Dimitrios Kambouris / Staff