Products You May Like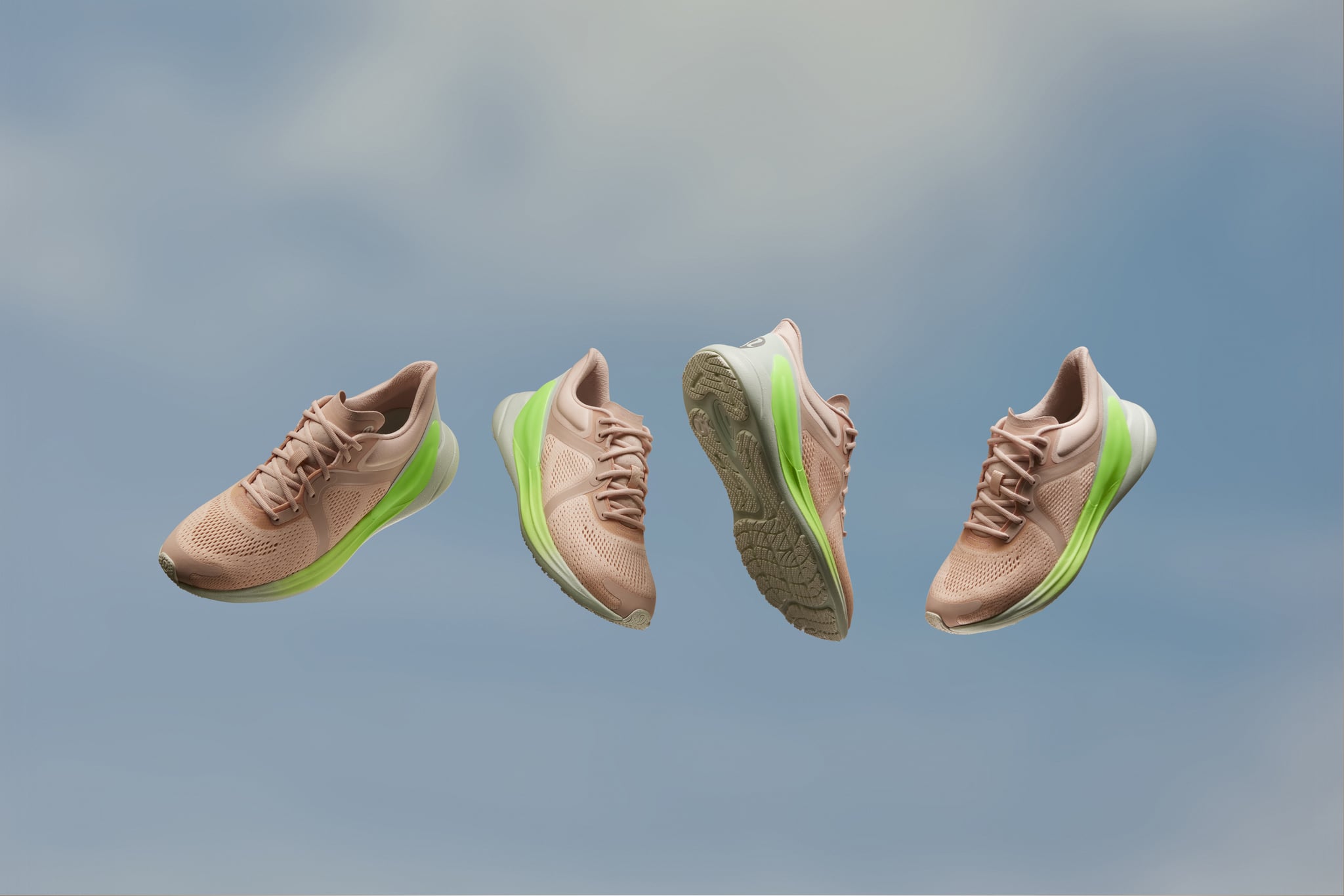 My feet and I are picky when it comes to running shoes. I'm very choosy about what I put on my feet when I'm headed out for a run or blasting through a HIIT workout, especially since a stress fracture on my toe and subsequent foot tendon injury took me out for several months in 2020. So, when I heard that Lululemon was releasing its first-ever running shoe, I tried to temper my initial burst of excitement. It was intriguing that an activewear juggernaut like Lululemon was getting into the shoe game, but I've had my fair share of disappointments when it comes to big-brand running shoes. What could we really expect from Blissfeel ($148), Lululemon's debut running shoe?
Lululemon says the Blissfeel running shoes stand out because they were designed from the get-go for women's feet. That might not sound revolutionary, but it's actually quite rare for workout shoes. "We saw an opportunity to solve for the fact that, more often than not, performance shoes are designed for men and then adapted for women," Sun Choe, Lululemon's chief product officer, said in a press release from the brand. "Innovating for women is in lululemon's DNA — now we're bringing that same expertise to footwear."
As far as shoe design, Lululemon says their Blissfeel sneakers are "engineered with an upper that supports movement and an energy-filled underfoot foam cushioning technology." (The upper is the part of the shoe that covers your foot; the underfoot is the sole of the shoe.) The brand plans to follow up its debut running shoes, which dropped in March, with shoes designed for cross-training (Chargefeel) and slides for recovery (Restfeel) (both of which will launch in summer 2022), followed by strength-training shoes (Strongfeel) in the fall. A men's shoe release is planned for 2023.
Back to Blissfeel: Lululemon sent me a pair to try (actually, they sent me two pairs — more on that below), and I tried the shoes out on two runs, several walks, and four HIIT workouts to see how they held up in different activities. After two weeks of use, here's my review of Lululemon's Blissfeel running shoes.
Lululemon Blissfeel Running Shoes Review
When I first tried on my Blissfeel running shoes, I was worried. My running-shoe size varies from nine to 10, and the first pair I tried — a size nine — was clearly too small. I loosened up the laces as much as I could, but even then, it felt too tight. I thought the length was OK, but when I took the pair out for a run, my suspicions were confirmed: the shoes squeezed my feet and made them go numb, and when I took them off, I realized the left shoe had given me a blister on my pinkie toe.
Take two: I sized up to a 9.5, which fit much better. Blissfeel is definitely a narrower shoe, which I could feel even in the larger size, but the length felt right, and the tops of my feet didn't feel as cramped (although I still loosened the laces). I decided to try breaking the shoes in with some walks and HIIT workouts. I don't usually do this with running shoes, but I wanted to see if it helped to stretch out the shoes before I took them out for a run. (FTR, running shoes generally don't require you to break them in; however, it's certainly not a bad idea to ease into using a new pair if you're not sure how your body will react — or if, like me, you have dealt with foot issues in the past.)
Mission accomplished. After breaking in the shoes for a few days, I laced them up for a 2.5-mile run. The shoes were definitely a snug fit, and I noticed some moments of numbness at the beginning (generally not uncommon for me — and much improved from the smaller size). As I ran, I felt my feet start to settle in. I have high arches that can sometimes lead to pain in my calves and Achilles tendon, but Blissfeel provided enough support that this wasn't an issue. I finished the run feeling satisfied with the experience and notably blister free.
It was during my second run in the Blissfeel shoes that I really started to like them. I stuck to the same route and distance, but the shoes felt more broken-in and comfortable. As a result, I felt very little numbness or discomfort — which is a big deal for someone with a history of foot problems. The shoes felt light, springy, and supportive, even when I pushed the pace at the end (which tends to be when I feel discomfort with other running shoes). I also didn't feel any knee pain or fatigue in my legs, which, to me, are signs of a good running shoe.
I typically run in Brooks, and I would say that Lululemon's Blissfeel shoes are comparable, though definitely on the narrow side. While Lululemon advises people with wide feet to go up a half size, I have fairly narrow feet and still needed the extra space, so I'd recommend sizing up no matter the width of your feet. If the size doesn't work, Lululemon provides a full refund if you return the shoes within 30 days.
Not all running-specific sneakers transition well to other activities, but I loved wearing the Blissfeel shoes for walking and other types of cardio, like bodyweight plyometric workouts — I felt the same support and "bounciness" that I did on runs. Blissfeel's sleek look makes me think these shoes would be great as a comfy-but-cute option when you're on your feet for a while but don't want to look like you're, well, wearing running shoes.
Overall, would I recommend Lululemon's Blissfeel running shoes? Yes, but I'd definitely take advantage of the 30-day trial period and go for a slightly larger size than usual, given the shoe's narrow design. Lululemon says these shoes were designed "based on the feet of more than a million women," so there's a good chance your feet will like them. You might just need to break them in first.
Image Source: Lululemon