Products You May Like
Image Source: tempo.fit
If you're ready to break up with your gym, or you just wish your at-home equipment took up a little less real estate, it might be time to take the plunge and invest in a smart home gym like Tonal or Tempo. Similar to other wall-mounted smart gyms, Tonal has an interactive touchscreen display; however, its advanced strength and resistance training is its coolest feature. With Tempo, you get unlimited access to your favorite virtual workout classes and, through 3D technology, you're also given feedback about your form in real time.
While you may find yourself pinning the two machines against one another, it's important to know that neither is better than the other. Tonal and Tempo actually have more differences than similarities, which in the long run can help you make a more effective decision. Still, choosing a smart home gym that will fit into your lifestyle and help you reach your fitness goals can be tricky, not to mention expensive. That's why we've created this helpful shopping guide, so you know exactly what you're getting before you add either Tonal or Tempo to your cart.
Tonal vs. Tempo: Aesthetics and Footprint
Right off the bat, you'll notice that Tonal and Tempo are physically quite different. Tonal ($2,995) is a wall-mounted machine with adjustable arms on either side and is often praised for its clean and compact design. While the machine itself doesn't take up any floor space, the company recommends mapping out seven feet of wall and floor space prior to installation, as Tonal's arms can move horizontally and vertically to support 200 different body movements. Visually, Tonal looks a bit like a TV when it's not on. (Unfortunately, it doesn't double as one.)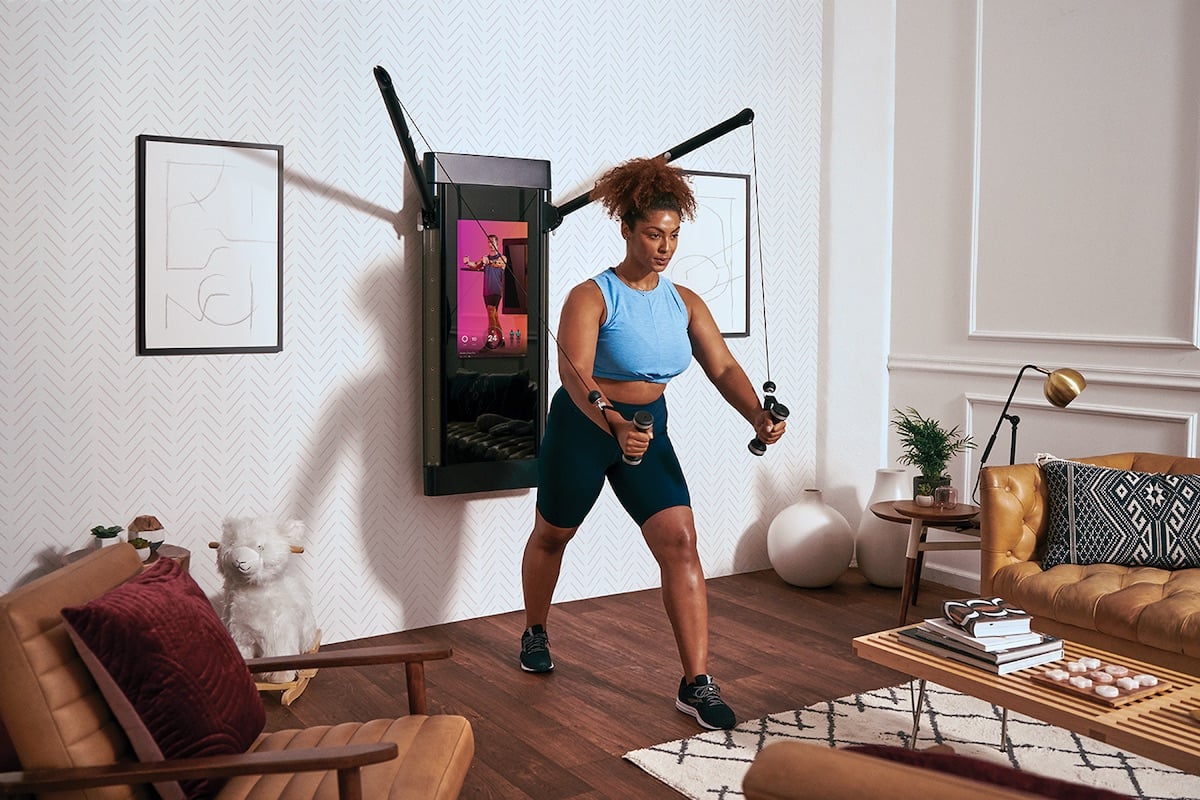 Image Source: tonal.com
You'll have to carve out three square feet of floor space for Tempo Studio. The freestanding gym is six feet tall and features a 42-inch touchscreen display with a cabinet for equipment storage underneath. Alternatively, if you're tight on space, you might consider Tempo Move. Sleek and extremely compact, Tempo Move uses a device called Tempo Core to dock your iPhone when you're ready to work out. Simply open the Tempo app to get started, or for a larger display, connect Tempo Core to your TV using the included HDMI cord. Tempo Move also includes a two-shelf cabinet with a magnetic fabric cover for storing equipment.
While all of these machines maximize space, both Tempo gyms require no mounting, which may be ideal for renters. Plus, Tempo Move only needs an outlet, WiFi, and your phone to operate, so you can bring it with you wherever you go.
Tonal vs. Tempo: Pricing
Tonal retails for $2,995. However, this doesn't factor in delivery and installation fees, which vary based on your location. If you plan on taking advantage of Tonal's digital weight workouts, you'll need to add on Tonal's Smart Accessories Bundle. The bundle will cost you an additional $495 and includes smart handles, a smart bar, a rope, a bench, a roller, and a workout mat. Once you activate Tonal, you'll be locked into a membership that gives you access to unlimited classes. This costs $49 per month with a minimum 12-month commitment.
Tempo Studio ($2,495 and up) is available in three differently priced packages. Whether you opt for the Starter, Pro, or Plus package, the smart touchscreen is the same. It's the amount of equipment that sets these tiers apart. The Tempo Studio Starter Package ($2,495) includes the Tempo Studio itself, a workout mat, two 7.5-pound dumbbells, four collars, and 75 pounds of weight plates. The Tempo Studio Pro Package ($3,245) comes with two additional collars as well five other pieces: a 25-pound barbell, a heart rate monitor, a recovery roller, a folding bench, and two 25-pound competition plates. For all of the above plus a folding squat rack, a kettlebell system, two 45-pound competition plates, and a weight-plate storage cabinet, you can purchase the Tempo Studio Pro Package for $3,995. Remember that the more gear you accumulate, the more space you'll need.
Tempo Move ($495) has a fixed price, which includes Tempo Core, an HDMI cable, two 7.5-pound dumbbells, four weight collars, four 5-pound weight plates, four 2.5-pound weight plates, four 1.25-pound smart weight plates, and a weight storage cabinet to house everything.
While Tempo Move doesn't require professional installation and has no delivery fee, Tempo Studio's fees can run you upwards of $250. Customers can choose to set up Tempo Studio themselves and only pay for standard shipping ($150), or opt for in-home assembly for $100 more. Both Tempo smart gyms charge a $39 monthly membership fee and require a minimum 12-month commitment. This grants you, and up to five other profiles, unlimited access to workout classes and personalized training plans.
Tonal vs. Tempo: Workout Classes
Tonal can be used to target a variety of areas — core, lower body, upper body, and full body — thanks to its digital weight system. The smart gym's adjustable arms support up to 200 pounds of resistance and allow you to perform 200 upper- and lower-body movements. With Tonal, everything about your workout, from the weight of the equipment to the number of reps, is tailored to meet your fitness needs and goals. Tonal's weight and resistance technology can even sense when you're slowing down or struggling with equipment that's too heavy and will adjust accordingly. It will also let you know if your form needs fixing and give you instructions on how to do so. While Tonal is primarily billed as a machine for strength and resistance training, it also includes a library of live and on-demand workouts spanning a variety of genres, including dance cardio, yoga, kickboxing, and more.
On the Tempo app, users can browse live and on-demand workout classes of all difficulty levels across nine categories, including HIIT, core, and low-impact workouts. In addition to a virtual trainer, Tempo displays your rep count, the name of the exercise you're performing at the time, a workout timer, and your pace and heart rate. You can also set fitness goals such as "improve flexibility," and Tempo will curate a personalized schedule based on your needs.
Tempo's coolest feature is its 3D Tempo Vision, which monitors your form throughout your workout and provides instant feedback if something needs correcting. Feedback will appear on the screen — for example, "Try to keep your knees above your toes" — and turn green if corrected, or red if you need to try again. Not only will this help you achieve a better workout, but it can also prevent injury.
Ultimately, when choosing a home gym, you have to keep your fitness goals, space, and budget in mind. Tonal is great for those who prefer strength and resistance training and want to keep their equipment off the floor. If studio classes are more your jam, Tempo Studio may be a better investment. Meanwhile, those wanting to upgrade their home gym without sacrificing their limited space (or budget) may find Tempo Move more enticing.
Still struggling to make a decision? Tempo offers a risk-free 30-day trial, and you can try Tonal in person at select Nordstrom locations.