Products You May Like
Whenever I've watched rock climbing, like at the Olympics, I've assumed it requires way more upper-body strength than I think I have. Have I touched a rock climbing wall? Yes. Have I actually scaled one? Nope. (Although that may have more to do with my crippling fear of heights than anything else.) So when an email from CLMBR, a full-body vertical climbing machine, slid into my inbox, I was intrigued.
CLMBR (starting at $2,800) is supposed to mimic the feeling of crawling "like when we were babies," CLMBR coach Kenny Ferrer tells POPSUGAR. Except instead of being on all fours on the floor, you're "climbing" vertically, on the machine. The machine is 88 inches tall with a 35-by-32 inch base and comes with a connected screen that plays workouts for you to follow along to. Accessories are sold separately or as part of bundles on the brand's online store, including the CLMBR Mat ($45) to protect your floor, the CLMBR Resistance Bands ($40), and the Bala x CLMBR Power Ring ($85). The 180-pound climbing machine has wheels attached to the base for easy placement anywhere in your home, and if you want to see CLMBR's true size before it's in your home, you can go to the machine's site to view CLMBR in augmented reality or try CLMBR at a store or gym near you.
CLMBR also has an Apple and Android-friendly companion app that's free to download and explore; membership costs $40 per month. You can stream a variety of classes from the app: rhythm climbs (where you move to the beat of the music), artist-themed classes, and bootcamp workouts that mix climbing with off-machine exercises are a few of the main class types available. The app also lets you preview a brief description of what you can expect during each class, the playlist you'll be listening to, and a list of muscle groups that will be targeted while you work out.
I got the chance to try a CLMBR class in person with Ferrer. And while I'd been somewhat skeptical about what the experience would be like, I was surprised by how much I enjoyed it.
CLMBR 10-Minute Class Review
Stepping onto the machine, I noticed that my size 14 feet (in a women's sneaker) were bigger than the pedals. But with the adjustability of the straps, I still felt secure on the machine. I'm also 330 pounds and felt like the pedals didn't slide down under me; there was ample resistance from the machine. Then I made sure I was standing tall on CLMBR, so that Ferrer could set up the handle bars to the height of my chest. While leveling my handlebars, he mentioned that the machine comes with extenders, so people my height (six-foot-two-inches) and taller could make sure the handles are truly at chest height and not too low. With CLMBR tailored to my body, it was time to try a class.
I was trying out an EDM Interval Climb class, which was actually led by Ferrer. Meaning, I had the slightly surreal experience of being coached by Ferrer on the connected CLMBR screen, while he was also standing next to me — motivation was coming from all angles. I tried to focus on the virtual version, though, and was impressed. His detailed coaching had me crawling as naturally as a baby within five minutes.
The first thing we went over in class were the three handle-holding positions: overhand, underhand, and neutral (with the palms facing each other). Since the class was only 10 minutes, things progressed quickly. We went from slower climbs that allowed me more time to lengthen my limbs in opposite directions, to faster sprints where (you can see below) my glutes, lats (back muscles), and abs engaged simultaneously to keep my trunk stable while I scaled a nonexistent building. The music selection for class was on point. The dance and EDM tracks made me feel like I was sweating at a rave — but really, I was climbing for my life.
Toward the end of class, Ferrer (the IRL one) told me that some people find their ankles feel a little wiggly while stepping off of CLMBR — and that was definitely true for me. The wobbly feeling took a couple minutes to disappear, but while it felt strange, it never felt painful.
Ankles aside, I felt pretty good after my miniclimb. All of my muscles felt like they had a solid workout, and the main side effect was sweat. As someone with asthma and sensitive knees, I enjoyed the fact that I got a cardio workout that didn't make me reach for my inhaler midway through or leave my knees aching.
I only have 10 minutes under my invisible rock climbing belt, so I can't say for sure I'd use the machine enough to justify the price tag for the machine and membership. But I think CLMBR is a great option for people that are looking for an effective cardio workout in a short amount of time that targets a range of muscle groups at once — without triggering their fear of heights.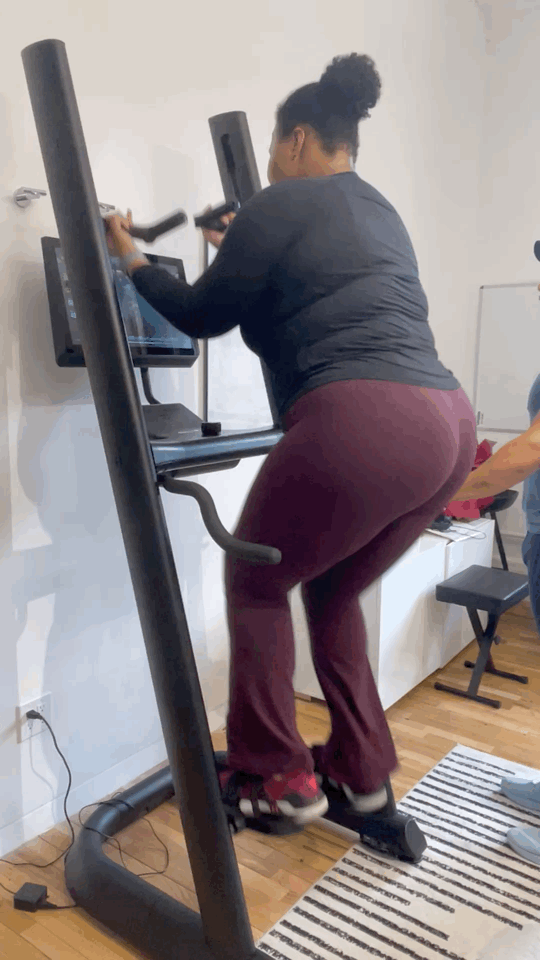 Image Source: Courtesy of CLMBR