Products You May Like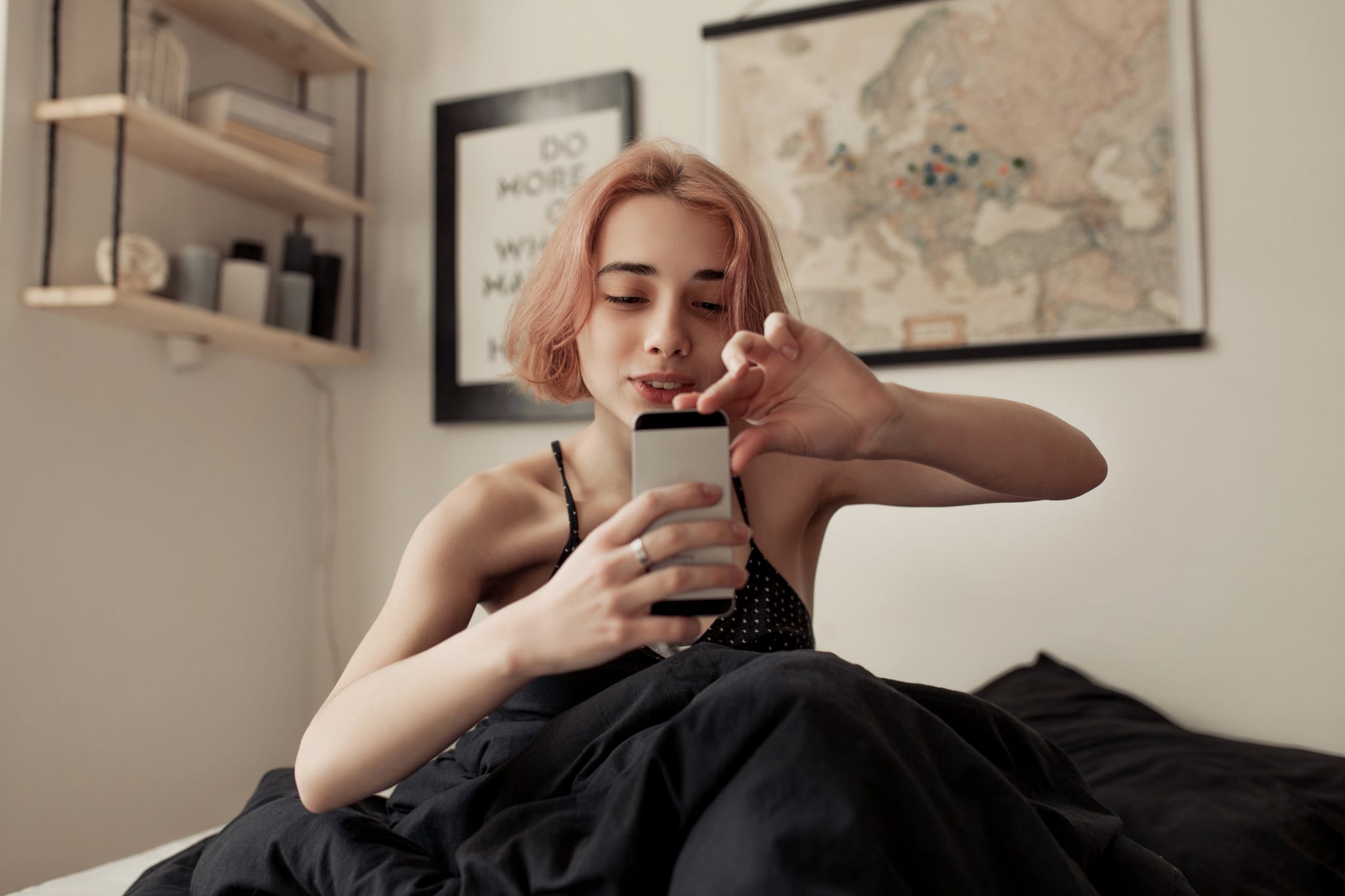 It's no secret that the highly curated world inside Instagram weighs on people mentally and emotionally. Facebook research released in September 2021 found that 32 percent of teen girls said that when they felt bad about their bodies, Instagram made them feel worse, according to CNBC.) Still, while most of us are familiar with the downsides of social media, we aren't ready to give up connecting with friends and keeping tabs on one another's lives.
That's where the photo-sharing app BeReal comes in. First launched in 2020 by French entrepreneur Alexis Barreyat, it pegs itself as " the first uncontrollable social media" and aims, first and foremost, to create an authentic environment. While it's not exactly brand new, BeReal is starting to gain steam especially among college students, according to Bloomberg. It's been downloaded more than one million times from the Google Play store and is currently No. 8 in the social networking category on the Apple App Store, with nearly 15 thousand reviews singing its praises.
But is BeReal enough to change the way we share and consume online? And how do you use it in the first place? Here's what you need to know.
What Is the BeReal App?
BeReal (currently available for iPhone and Android) sends you a push notification saying "Time to BeReal" at a different time each day. You have two minutes to take a photo and upload it for your friends to see — no filters, no editing, no time to create the perfect shot. The idea? To show a glimpse into your actual everyday life rather than your highlight reel.
The app feels like the early days of Instagram or Snapchat but with a deadline element, and there's something touching about knowing that everyone with the app is stopping to take a photo at the same time. It's refreshing to see blurry photos, dirty dishes, and awkward selfies.
"THIS APP BREAKS BARRIERS!" user AndresitoFelix writes in a review on the Apple App Store. "You start realizing that these posts from other users and friends including your own are very different from what is usually [seen] on other social media apps. You can't post something planned it's random and it's real. It gives you a real glimpse [into people's] lives. Definitely worth giving it a shot."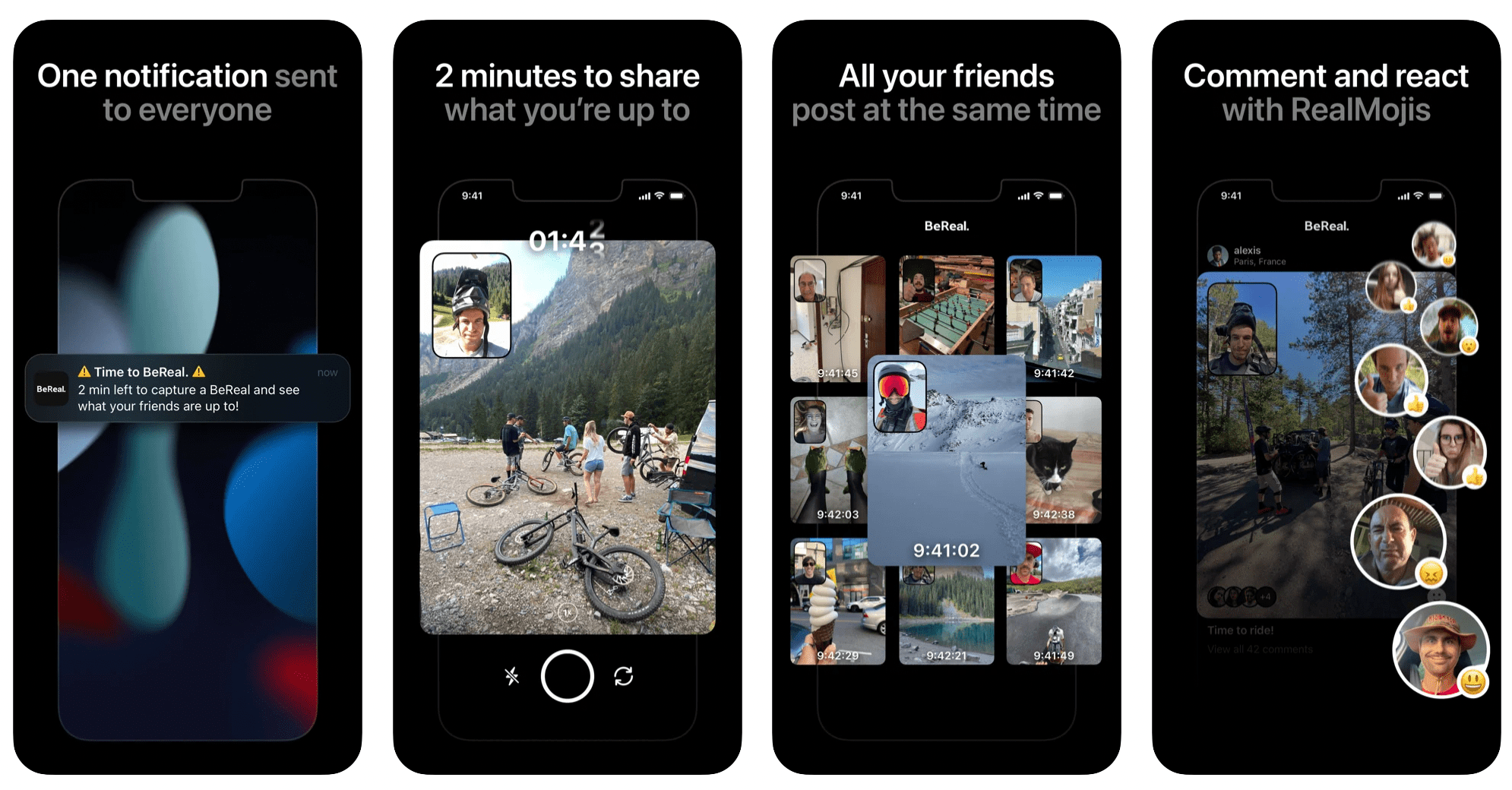 Image Source: Apple App Store, BeReal
How Does BeReal Work?
When BeReal sends you the notification, you have two minutes from the moment you open the app to take your photo and upload it (either publicly or just for friends to see).
When you take a photo, BeReal automatically takes a photo with the front-facing camera, which appears as a smaller selfie inside your main photo. (You can also swap them so that your selfie is the main image.) It's difficult to take a decent photo from both your front-facing and regular camera at the same time, which is presumably part of the unfiltered energy — even if BeReal catches you at a good time, it could still translate to a bad photo. Either way, you're forced to share yourself and your surroundings in the moment. You can't see other people's daily bit of content until you've posted your own, which forces you to engage rather than just lurking on the platform. Like what a friend is doing? You can reply to people's posts with "RealMojis" — variations of selfies you've posted with the app.
There's a "Discovery" page, so you can see what people besides your friends are doing — although it feels a bit odd to be peeking into strangers' everyday lives. It lacks the aesthetic, inspirational feel of Instagram — which is, of course, the point — but it also makes following people you don't know feel a bit creepier than on other social platforms.
How Often Can You Post on BeReal?
You get just one opportunity per day to share something on BeReal, and the notification prompting you for a photo pops up at a different time every day. While the idea is to be forced to post in the moment — no matter what mundane activity you're in the middle of — you actually do have the ability to post a late BeReal if you miss the initial ping (it will just be labeled "[X] hours late," so people know you didn't take it immediately). But as Twitter users have pointed out, "saving" your daily BeReal post for a moment when you're, say, actually showered and doing something interesting defeats the purpose of the app.
What Does the Future of BeReal Look Like?
It's tough to know whether BeReal will take over in the way that Instagram, TikTok, and Snapchat have — or whether it will surge and burn like Vine. Its intention is a heartening one: a social media platform where we're validated by the normalcy of other people's lives. But so many platforms start from humble beginnings and with simple mission, only for the pressure to monetize and measure up to warp the vibe.
Even if it does take off, how long will BeReal stay, well, real?