Products You May Like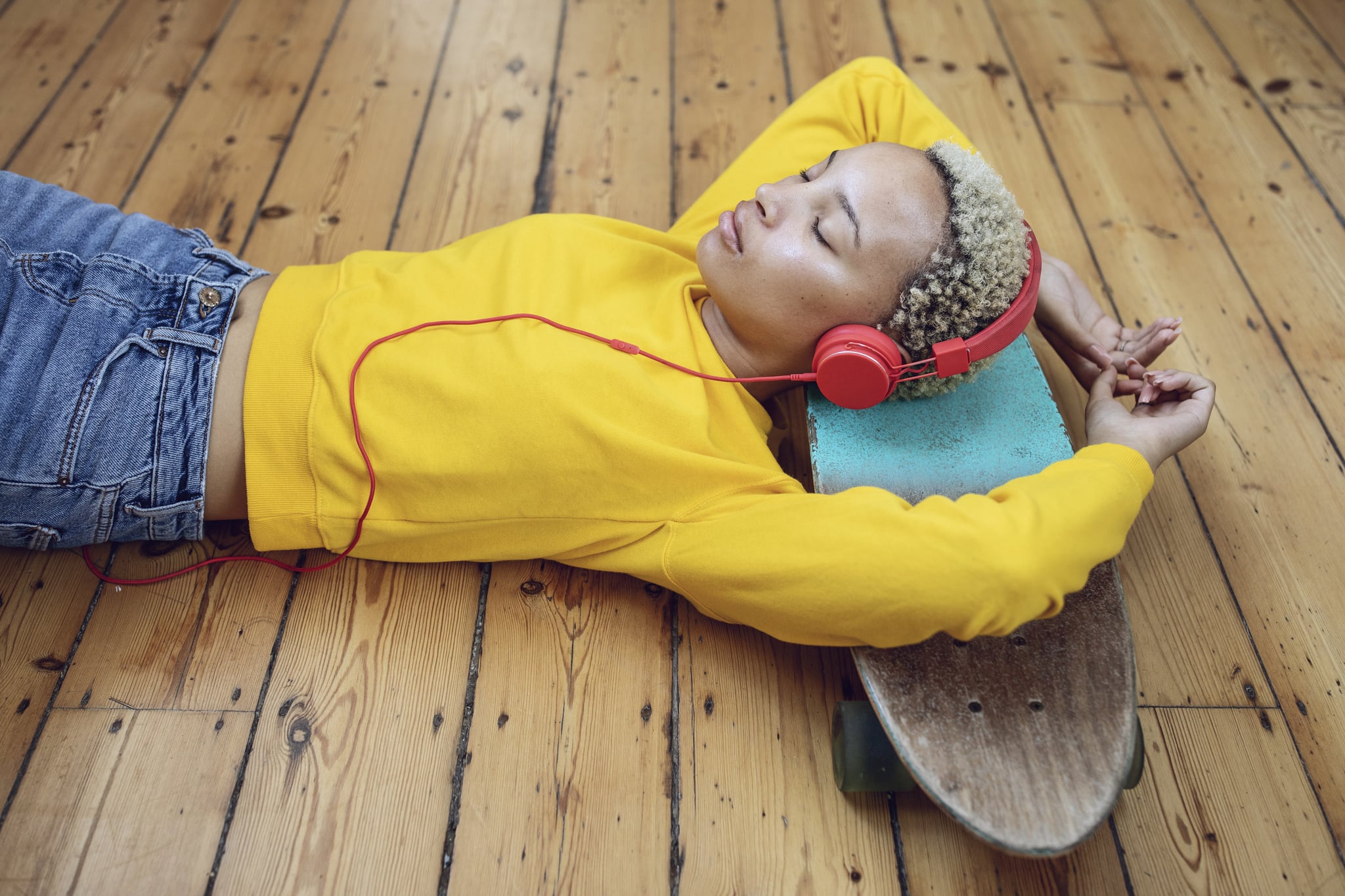 Have you ever played a song and instantly started to feel better? Well, there is power in music and chances are, it impacts you more than you know. In a previous interview, neuroscientist Yewande Pearse, PhD, told POPSUGAR that music stimulates almost every brain structure. You may view music solely as a tool for motivation (think: running on the treadmill). But it can also calm us down by interfering with our fight-or-flight response, impacting the parasympathetic nervous system, autonomic nervous system, and endocrine system, Dr. Pearse says. Music may even help us change our thinking in an anxiety-evoking situation, she notes. This is why the practice of music therapy exists.
We already use music to reflect on life experiences and make sense of how we feel, says associate professor of music therapy at Shenandoah University Hakeem Leonard, PhD, MT-BC. In music therapy, qualified professionals like Dr. Leonard use evidence-based clinical processes to expand on that and offer support to clients dealing with an array of mental and physical health issues — from depression to post-surgery rehab. If you've ever considered giving music therapy a try, here's a breakdown of everything you need to know.
What Is Music Therapy?
The American Music Therapy Association defines music therapy as the clinical and evidence-based "use of music interventions to accomplish individualized goals within a therapeutic relationship by a credentialed professional who has completed an approved music therapy program." Board-certified music therapists have degrees in music therapy and a national MT-BC credential. They are not to be confused with art therapists, volunteer musicians, or therapists who happen to use music in their sessions, says Cait Carter, MT-BC, who works in an adult state psychiatric hospital.
Gabby Salzarulo is finishing up 1,200 hours of clinical training this month before taking her exam to receive her music therapy broad certification. She tells POPSUGAR that she likes to define music therapy as, "using music to reach non-musical goals." What you do in specific sessions varies from person to person since everyone's needs are unique, she notes. Here's a list of activities you can expect to see in music therapy:
Songwriting (can also include changing lyrics around in a pre-composed song)
Music listening
Drawing to music
Guided meditation along with music
Making music (can include improv and may involve using drums or bells)
Carter notes that she uses music therapy to achieve much of what you'd work on in talk therapy. For example, she might utilize instruments in a group therapy session as a form of communication to work on interpersonal skills. Using instruments to have conversations, she says, tends to be less intimidating than talking. Meanwhile, songwriting and playing music promotes mindfulness. It encourages you to focus on the way the instrument and vibration feel in your hands, as well as the way that you experience sound. An important part of Carter's job is also assessing people to pinpoint their interests, the kind of music they listen to, if they play any instruments, and if they like to dance or to write music. "It's found that preferred music is most effective in music therapy. So if I decided to use Mozart with somebody who's a metal head, it's not going to be effective," she explains.
What Are the Benefits of Music Therapy?
Carter focuses on the mental health benefits with her patients. For example, having something reality-based to focus on, like music, helps patients with psychosis organize their thoughts, she says. "A lot of times people who have been victim to PTSD or some type of trauma, they sometimes feel powerless, and creating music, taking that on, can give them a sense of power," she says. Carter has also observed the way music helps people process shame and guilt associated with trauma. It has even shown positive changes in people with depression.
There are also specific clinicians who practice neurologic music therapy, typically administered to stroke patients and those with traumatic brain injuries. Within that, Carter says clinicians use melodic intonation therapy, for instance, to help people get their speech back. And Salzarulo notes how effective music therapy is for people with Alzheimer's and other forms of dementia — it's proven to help their cognitive function and quality of life. Salzarulo, who is completing her last pre-certification internship in a south Florida hospice company, usually plays her patients' preferred music. But if people are non-responsive, the best music to use is from their early 20s, she says. It resonates the most and has the most memory attached to it.
Music therapy can aid in pain management, too. When Dr. Leonard worked in an inpatient rehab facility, he used music to help patients with physical pain after knee replacement surgery. He played their preferred music at a tempo that matched how fast they were trying to pedal on a bike and found that they reported less pain while trying to increase their range of motion.
Other areas of research include the benefits of music therapy on children with autism, and Carter says she personally aims to conduct research on music therapy interventions that are most effective in treating people who have suicidal ideation or personality disorders.
How to Find a Good Music Therapist
Dr. Leonard, Carter, and Salzarulo all agree that you don't have to be musically talented to benefit from or partake in music therapy. Ready to give it a try? Dr. Leonard suggests following these steps below:
Use a search engine like Google to look for music therapists near you.
Make sure they have that MT-BC credential.
If you still need help finding a music therapist, reach out to universities in your area with music therapy programs. These programs will have connections to all kinds of music therapists in the local and regional area.
You can reach out to the American Music Therapy Association for recommendations as well.
Carter notes that music therapists are allowed to practice across state lines since the MT-BC credential is a national certification. However, if a client lives in a state where a music therapy license is required, the music therapist needs a license in that state as well. At the very least, Dr. Leonard reiterates how important it is to find someone who is trained in music therapy and holds an MT-BC. They'll know how best to navigate the intricacies of music therapy, including triggers that certain music can have on a person, as well as how to implement clinical practices in a way that's culturally sensitive. When in doubt, always look for that certification.