Products You May Like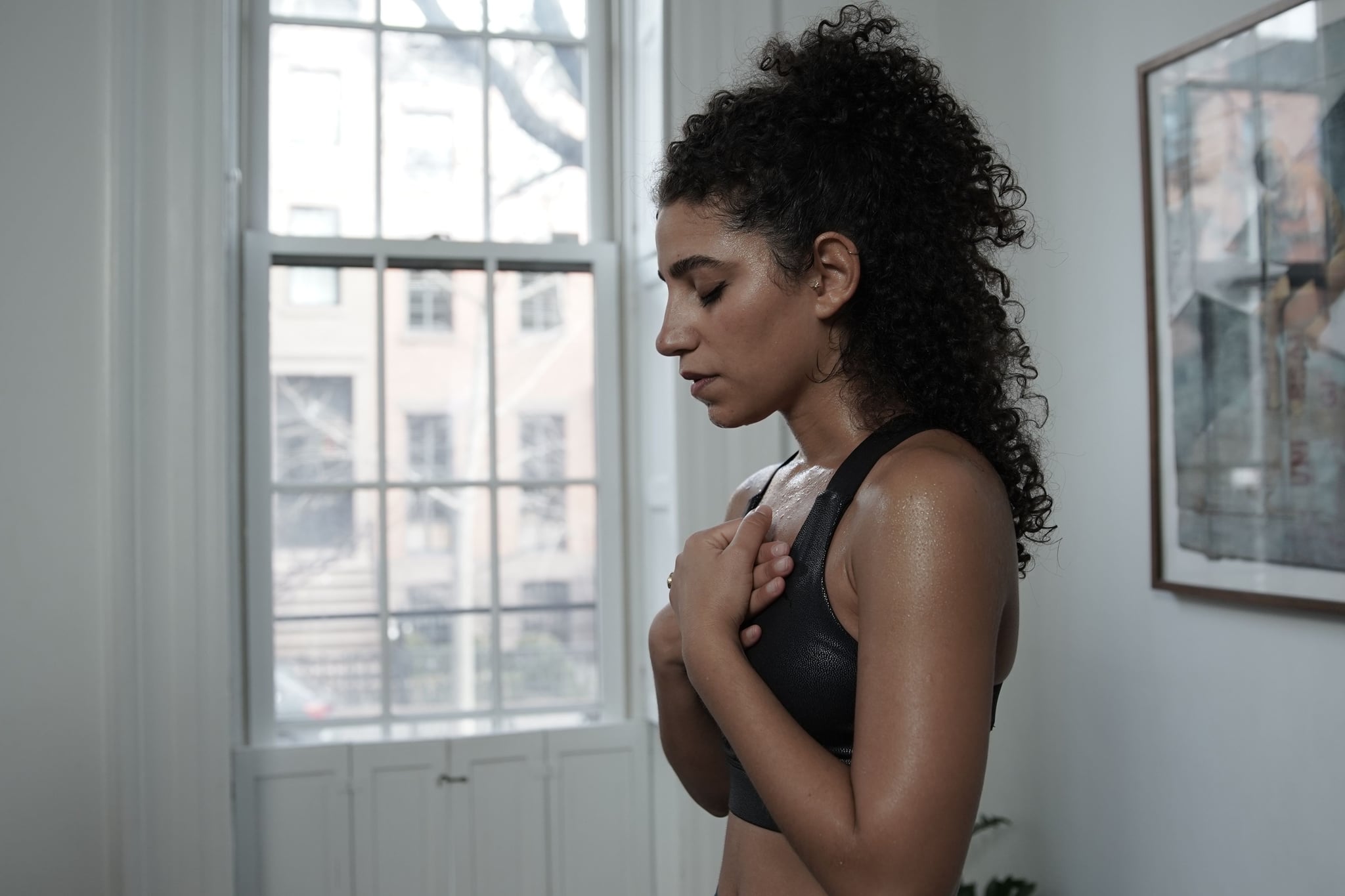 I've never really associated exercise with a feeling of pleasure. Which isn't to say I don't enjoy working out — I love the sweat, the burning muscles, the racing heart, the endorphins. It's satisfying and empowering. But pleasure feels like something different, with a different set of connotations; to feel pleasure is to feel sexy, sensual, embodied, and fully present. If anything, exercise makes me want to escape my body, distracting myself from the pain with music and daydreaming. I love working out, but it has never been a fully sensory experience for me.
But the point of the Pleasure Your Self series ($40 a month for a subscription) is just that: to use movement and exercise, music and words, to "activate your body's ability to experience pleasure." I got the opportunity to try out the five-session series from The Class, and frankly, I was skeptical. I tried to imagine how a workout series could help me tap into my sense of pleasure, but beyond learning some type of sexy dance choreography (which I seriously doubted my ability to do), I couldn't see it.
My curiosity was piqued though—maybe because I didn't know what to expect. I wanted to see if a fitness class could actually help me tune into my sense of pleasure and even change my own improving, but admittedly still fraught, relationship with it. So, over the course of a week, I tried out the full Pleasure Your Self series from The Class to see if it really worked. Here's what happened.
What Is Pleasure Your Self?
Pleasure Your Self consists of five workouts, each of which are paired with a short, intimate, teacher-led conversation. These short talks, which range in length from two to three minutes, allow "the teacher to share their relationship to their inherited 'story' [about pleasure], how it is that they broke through that fiction, and what you can expect from their class," says Natalie Kuhns, vice president of programming at The Class and the founding teacher of Pleasure Your Self. The workouts, meanwhile, are each "crafted to bring you into a particular realm of pleasure" beyond sexual gratification: authenticity, sensuality, play, and presence. The classes are half an hour to an hour in length and all equipment-free, with an emphasis on breath and intuitive, personalized movement synced up to music.
"When you practice pleasure, you become resensitized to your life. That's what this program is meant to do."
The point of the series, Kuhns explains, is to reexamine and revive our relationship to pleasure. "Pleasure, in the last two years, has felt like a privilege," she says. "It's not something that we've considered as part of mental health, physical health, or emotional health." Instead, it's a state we associate with taboos, anxiety, guilt, fear, shame — the list goes on.
What Was My Experience With The Pleasure Your Self Series?
I went into the series with my own set of stories about pleasure: whether or not I was allowed to feel it and what situations were allowed to inspire it. Within the first session, an hour-long class with Jaycee Gossett, I felt those stories start to disintegrate. Her class focused on rediscovering your sense of pleasure and sensuality "when we feel like we've really lost that part of ourselves." The class was filled with repetitive, rhythmic movements, some of which were familiar, like squats, glute bridges, and side planks, but with added swivels and sways to make things more sensual. (We even did burpees, and yes, they did somehow feel sexy.) There were also bursts of dancing-inspired cardio that felt designed to shake off whatever inhibitions were left.
It felt weird at first. I was dancing alone in my apartment living room, touching my arms and legs, hoping my roommate didn't decide to walk out in the middle of everything. But it also felt good, like I was really was tapping into a part of myself I usually ignore, telling myself this was OK to do, it was OK to have fun doing this.
Each of the classes has a unique structure, and offers a different perspective on pleasure and how we can access it. One class was focused almost entirely on touch and familiarizing yourself with your skin and your body; another was about tapping into pleasure in a skill or activity that you once loved, then fell out of touch with. One class, which was part yoga, part dance, was about authenticity and learning how to bring your true identity into everything you do. And the last class, taught by Kuhns, is about fully activating each of your senses, one at a time, to find pleasure in the most mundane areas of your life. Throughout each class, you're doing repetitive, beat-driven physical exercises while the teacher encourages you to play with your own definition of pleasure — to connect the movements of your body to the way your mind interprets joy, passion, and sensation.
"When you practice pleasure, you become resensitized to your life," Kuhns tells POPSUGAR. "That's what this program is meant to do."
I've been getting more in-touch with my body and my desires, so it was a shock to me to see how many feelings and experiences I still had stored up inside of me, complicating and sometimes blocking my sense of pleasure. When I was prompted to start breaking them down through touch and movement, it was like opening a floodgate. Unexpected emotions rose to the surface and inhibitions and insecurities ("Do I look weird doing this? Am I doing this right?") had to be acknowledged, addressed, and let go of as I moved through the classes. And the payoff was there. When I finished with each class, my skin was practically humming. I felt completely aware of my body, how it took up space, the movement of my lungs. I was "resensitized" indeed. To me, these classes felt enlightening and enlivening in a way I didn't expect. I danced, I sweated, I cried, I felt good. I'd recommend them to anyone who needs a little more joy right now.
Image Source: The Class