Products You May Like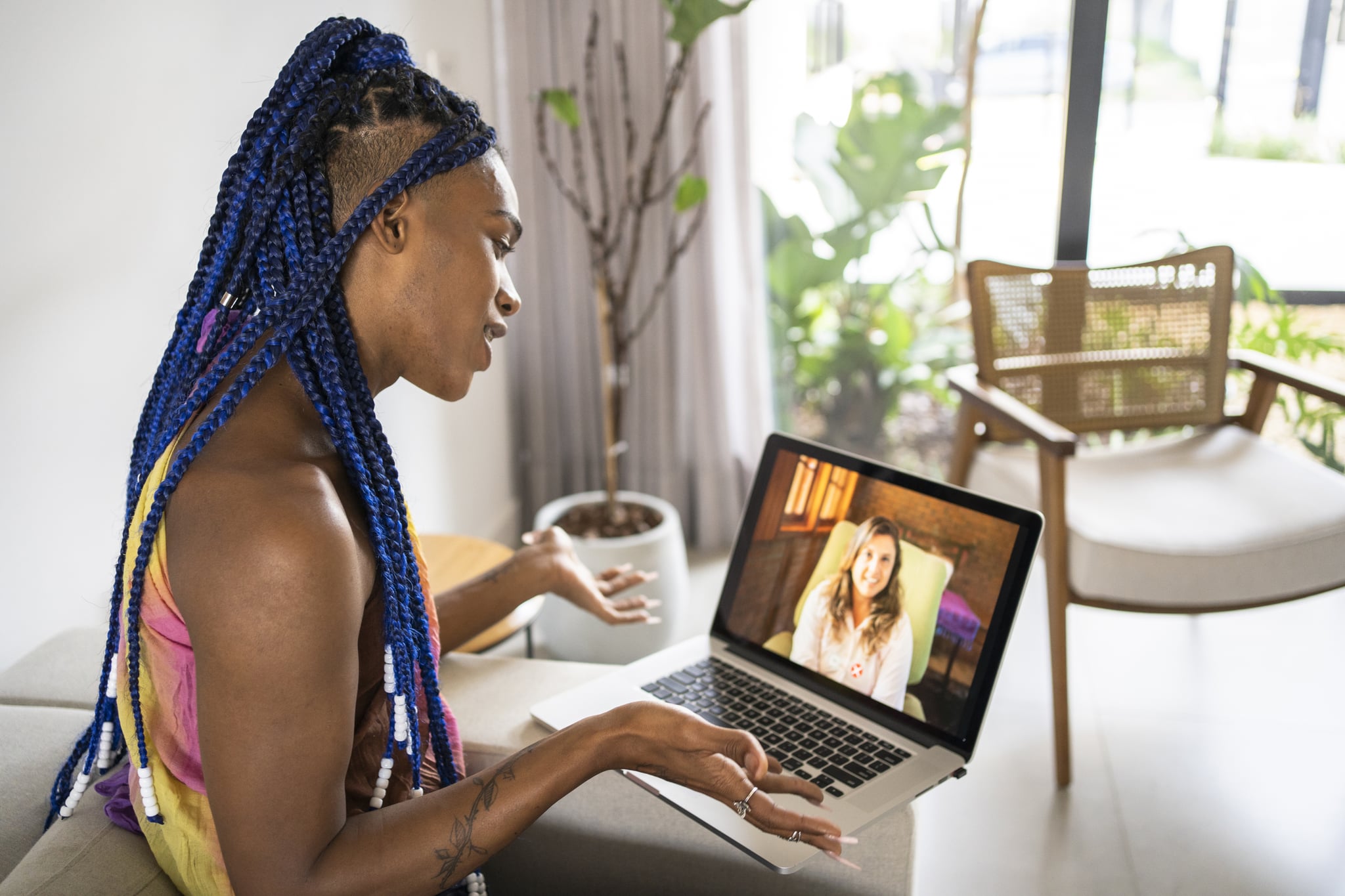 If you're trying to find a therapist, it's important that they're a good fit for you. Of course, it can take a few sessions with the therapist to get to know them, to feel comfortable, and to decide if their personality and style meshes with you. But there's a way to find out if it's even worth setting up an appointment. POPSUGAR spoke with licensed marriage and family therapist Kiaundra Jackson, LMFT, who shared these five questions you can ask a therapist before your first therapy session. Some therapists offer free 15-minute consultations, Jackson said, or you could ask these questions over email.
1. What Is Your Theoretical Orientation?
A theoretical orientation refers to the concepts or perspective that a mental health professional uses to assess, understand, and treat a client, Jackson explained to POPSUGAR. Some common theoretical orientations (or types of therapy) you may or may not have heard of include: cognitive behavioral therapy (CBT), dialectical behavioral therapy (DBT), psychodynamic, solution-focused, and emotionally-focused therapy (EFT). Every mode of therapy is not for you and will not always get you the results you need, Jackson said, so it's important to understand which one(s) your therapist uses.
Different types of therapy are more beneficial for certain issues, and some may be be used for short term or for long term — these are all good follow-up questions to ask the therapist. Jackson also said, "You won't really know what theoretical style works for you until you start therapy." Also, different approaches may be needed for the same client depending on the season or phase of life they are in. She said, "I've had clients who didn't think a direct approach would work for them and their personality. However, it was exactly what they needed to be pushed towards their goals."
2. What Can I Expect in Our First Session?
First sessions can be slightly scary if you've never been to therapy before, and it's primarily because you don't know what to expect, Jackson said. The first sessions typically include completing paperwork, going over your informed consent (which includes billing confidentiality, etc.), building rapport by getting to know one another, and setting some initial goals. You can ask them specifically how they like to run their first session.
3. Do You Offer Virtual or In-Person Sessions?
Due to the pandemic, many therapists have changed the way they do therapy, so it's important to know if your therapist holds in-person or virtual sessions (or both!). It's important to know if you'll be conducting your sessions via video or if you'll be traveling to an office. Note that in-person doesn't always mean it's more beneficial — some people may prefer virtual because they feel more comfortable than meeting face to face.
4. What Is Your Therapeutic Style?
This can be subjective, but every therapist has a therapeutic style. Some may be more quiet and laid back, while others are more vocal and direct. "I tend to be more loving, kind, and supportive in the beginning stages, then I incorporate a more direct approach to help clients meet their goals," Jackson said. "I still maintain my personality and use different techniques for each client." Find out which approach this new therapist uses, and if you've never gone to therapy, it's OK if you don't know which approach works best for you at first.
5. I'm Having Issues With ____. Do You Have Experience Working With Clients With Those Types of Challenges?
It's important to do your research on a therapist, which means getting a clear understanding of their specialties and the types of clients they work with. Some specialities can include depression, anxiety, eating disorders, addiction, grief, and relationship issues. "Asking this question will confirm if they have worked with the issues you are currently dealing with and if they can get results," Jackson said.
These five questions are just suggestions from Jackson. You know your personality best, and it's important that you feel comfortable with this person, so you should feel free to ask other questions you may have before agreeing to your first session.
Image Source: Getty / Renata Angerami